La Rochelle Port
The Vieux Port and its towers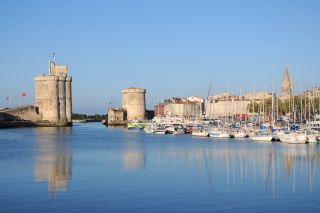 During your stay at our hotel, take a walk around the Vieux Port (Old Port), a must-visit place in La Rochelle that is beloved by the town's residents.
The Vieux Port of La Rochelle is guarded by two medieval towers recognised worldwide – the Tour de la Chaîne and the Tour Saint-Nicolas (dating from the 14th century).
The Vieux Port of La Rochelle, built in the 18th century, is a fortified port marked by imposing towers that have protected it and are still intact today. Indeed, these towers resisted destruction of the former ramparts during the famous siege of La Rochelle in 1628.
Immortalised numerous times by famous painters such as Corot and Vernet, the Vieux Port is now a pleasure port. All the fishing activities having been moved to the new port of La Pallice.
In this area, you'll find numerous top-quality bars and restaurants where you can enjoy a gourmet delight or a spot of refreshment on a hot summer's day. Top tip: in July and August, you can wander the quays and take a peek at the artisan market stalls along the quayside.