Beaches nearby
The three beaches of La Rochelle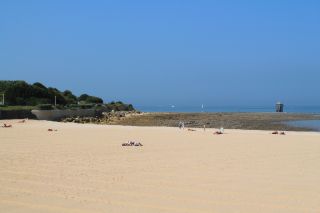 La Rochelle has three fine sandy beaches. Ideally located by the sea, the hotel is the ideal place from which to enjoy the Plage de la Concurrence (the town centre beach), which is located just 10 minutes' walk away. To get there, follow the Jardins du Mail by the sea.
You'll be able to relax and revel in the joys of the beach. Lounging around, games, swimming and water sports, anything goes! discover this little patch of heaven near our hotel.
La Rochelle has three monitored beaches in summer: La Concurrence (situated right at the heart of the town), Chef de Baie (fine sandy beach protected from the wind by an embankment) and Les Minimes (close to the pleasure port and the Parc des Pères with a part bordering a small pine forest, it is very popular in summer).
Easy to access and secure, you'll be able to totally relax and enjoy the La Rochelle sun while your children will have fun building brilliant sandcastles.